Wish I Was Elvis
---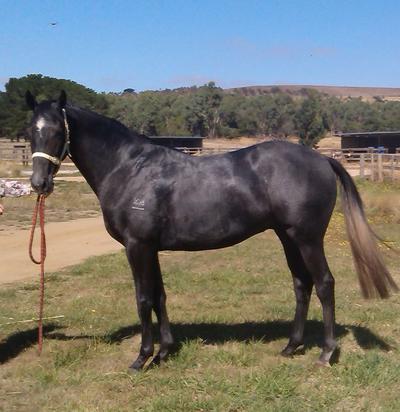 Sire: Rockaroundtheclock
Dam: Moonlighted
Colour: Grey
Gender: Gelding
Age: 3 year old
Foaled: Oct 29th, 2015
Country: Australia
---
Owners
Mrs A J Bridges, T W Nickeas, B M Kavanagh, A L Anderson & B Woodgate
---
Pedigree
BAY FILLY (AUS)

Foaled 29th October 2015

---

| | | | |
| --- | --- | --- | --- |
| Sire | Fastnet Rock | Danehill | Danzig |
| ROCKAROUNDTHECLOCK (AUS) | | Piccadilly Circus | Royal Academy |
| 2010 | Star Spangled | Falbrav | Fairy King |
| | | Tinaca | Manila |
| Dam | Dash for Cash | Secret Savings | Seeking the Gold |
| MOONLIGHTED (AUS) | | Gulistan | Rubiton |
| 2006 | Moonlight Tango | Luskin Star | Kaoru Star |
| | | Cheeky Trot | Godswalk |

---

ROCKAROUNDTHECLOCK (AUS) (Bay 2010-Stud 2013). Unraced. Out of a half-sister to SW Quest Star (Saratoga National Museum of RacingHall of Fame H., Gr.2). Grandson of a half-sister to SW Mariah's Storm, SW Panoramic and SW Air Zion. Related to SW Giant's Causeway (European Horse of the Year), SW Gleneagles (The Two Thousand Guineas, Gr.1), SW Marvellous (The One Thousand Guineas, Gr.1), etc. His oldest progeny are 2YOs.

1st dam

MOONLIGHTED, by Dash for Cash. Unraced. This is her fourth foal. Her third foal is a 2YO. Dam of one foal to race.

2nd dam

MOONLIGHT TANGO, by Luskin Star. Winner at 1650m in Aust. Half-sister to DANCER'S CHOICE (dam of CATANGO, NADEN), Gambade. Dam of 6 named foals, 4 to race, 2 winners, inc:-

Cheeky Devil. 6 wins from 1400m to 2000m, A$82,185, to 2015-16, 3d Ipswich TC Channel 7 H.

Gothic Medusa. Winner at 1600m in Aust.

3rd dam

CHEEKY TROT, by Godswalk. 3 wins at 1200m, 1500m, A$111,500, WATC Karrakatta P., Gr.2, Aquanita S., L, Swanborne Graduation S., 2d WATC Champion Fillies S., Gr.2, Sires' Produce S., Gr.2, Challenge S., L, Burgess Queen S., L, Pinjarra RC Oaks Trial S., L, 3d Western Australian Guineas, Gr.2, WATC Fairetha S., L, Gimcrack S., L, 4th Western Australian Derby, Gr.1. Half-sister to PERKY BEAU, Sassie Lassie (dam of VAGABOND BOY). Dam of 13 foals, 11 to race, 9 winners, inc:-

DANCER'S CHOICE (Bletchingly). 3 wins-2 at 2-at 1050m, 1200m, A$344,460, SAJC National S., Gr.3, VRC Vanity S., L, SAJC Canny Lass H., 2d MVRC Veuve Clicquot S., Gr.2, SAJC Spring S., Gr.3, 3d SAJC Goodwood H., Gr.1, VATC Blue Diamond S., Gr.1, Chirnside S., Gr.2, Kambrook Quality S., 4th VRC Sires' Produce S., Gr.1. Dam of-

NADEN (Spectrum). 7 wins to 1200m, A$266,290, VRC AR Creswick S., L, MRC Corp of Commissionaires H., SAJC Holden Rodeo H., SA Volunteers Day H., VRC Curran Chemicals H., 3d STC Star Kingdom S., Gr.3, VRC Kensington S., L.

CATANGO (Catrail). 6 wins at 1000m, A$131,170, SAJC WH Wylie H., L, MVRC Slickpix Sprint H., SAJC Seven News H., MVRC Tawlord H., SAJC Schweppes Flying H., 3d MVRC Dreamtime Racing Tour H., VATC Copperama H. Producer.

Romanelli. 6 wins-1 at 2-to 1200m, R306,085, Newmarket UK Soccer 6 H., 2d Newmarket Racing Express Profile H.

Cha Cha. Unraced. Dam of-

CHADING (Marauding). 7 wins from 1400m to 1600m, A$107,820, Balaklava Cup, L, SAJC Terrific H., Distinctive Homes H., 2d SAJC Gulf War H., 3d SAJC Finesse Model Agency H., 4th Murray Bridge Gold Cup, L.

Chapent. Unraced. Dam of-

Hank's Nephew (Danbird). 13 wins to 1400m, A$188,150, to 2016-17, SAJC Sportingbet H., 2d SAJC Quayclean H., 3d SAJC Matrice S., L, William Hill H., 4th SAJC City of Marion S., L.

Gambade (Bletchingly). 7 wins-1 at 2-from 1200m to 2200m, A$145,065, WATC Olympian Welter H., Bungler H.-twice, King Phoenix H., Sweet Saga H., 2d WATC September Welter H., 3d Pinjarra Cup, L, 4th Bunbury Cup, Gr.3, WATC Qantas Cup, L. Sire.

Skylight Jimmy. 7 wins-2 at 2-from 1100m to 2000m, A$117,400, VRC Flemington Summer H., Grosvenor H., MVRC TROA Free Day 2YO H., 2d MVRC Vivarchi H., Ausdart H., VATC Lincoln H.

Not Out. 6 wins-3 at 2-from 1200m to 2000m, SAJC Malaysia Airlines H., Tattersalls Heritage H., Racepage H., 2d SAJC Triscay H., Mannerism H., 3d SAJC Tobin Bronze Welter H.

Little Knowledge. 5 wins from 1100m to 2100m, TRC George Brown H., 2d TRC Sir James Wilson H., Warren Wilson Trophy, 3d VRC Murray Cox H.

Certain Charm. Unraced. Dam of-

Fort Knox (Thunder Gulch). 2 wins at 1700m, 2050m, MVRC Cox Plate Week Events H., 2d MRC Orrong H., MVRC Mitsubishi Magna All Wheel Drive H., 3d VRC St Leger, Gr.3, Chubb Trophy H., Sequalo H.

Montfort (Redoute's Choice). 2 wins at 1000m, 1300m, 2d MRC Merson Cooper S., L, 3d MRC New Gleam H.

True Charm. Winner at 1400m in Aust. Dam of-

Winged Charm (Hawk Wing). 3 wins to 1450m, A$223,180, VRC Riverside H., MRC Robert Smerdon H., Betfair H., 3d TTC Vamos S., L, VRC Spotless H.

Tango in the Night. Unraced. Dam of-

Celestial. 2 wins at 2, STC Hunting Horn H. Dam of-

Twilight Moon. 3 wins to 1400m, 3d AJC Doug Preverill H. Dam of-

Howgoodisthat (More Than Ready). 6 wins to 1200m, S$359,936, Singapore TC Class 3 H.-twice, Class 4 H.-3 times, 2d Singapore TC Kranji C S., 3d Singapore 3YO Sprint, Sgp-3, Singapore TC Open H.-twice.